Are you a homeowner wondering who is responsible for tree trimming near power lines? This is a fair question, as branches getting too close to overhead cables need immediate trimming. Snapping those lines can risk property damage, power outages, and costly fixes! Downed power lines also risk fires and severe injury or even death to those nearby.
First, note that states often create their own laws regarding tree maintenance around power lines. Second, those laws might depend on the tree's location, how close branches are to lines, and the like. Also, some states allow cities and counties to create added laws about trimming trees around power lines.
To prevent damage to power lines and other property, check out some vital information about tree trimming around those lines. Also, check with a nearby tree services contractor for more information as needed.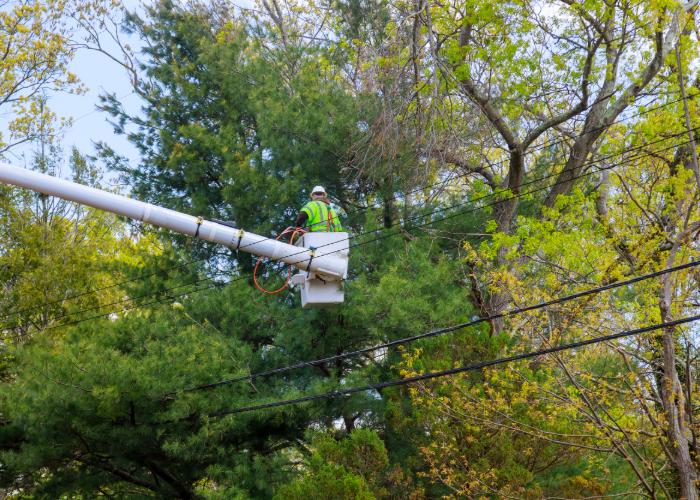 Who Is Responsible for Tree Trimming Near Power Lines?
In many areas, electric utility companies are responsible for maintaining trees around power lines. This is especially true for trees on public property, that hang over roads, and the like. However, some cities and counties dictate that property owners must trim trees on their property!
Property owners should check with their utility provider about local laws and regulations. If the utility company says property owners are responsible for their trees, schedule trimming quickly. Tree trimming services are typically far less expensive than repairing downed power lines.
Also, many states mandate a certain clearance between those lines and tree branches. Once those branches reach a particular point, your city or county might require trimming. However, these laws will vary from area to area. Why is that?
One reason that cities and counties have different requirements for clearance is that harsh weather conditions might increase the risk of damage. For instance, strong storms and high winds might push branches closer to power lines more readily. Consequently, cities and counties in areas prone to inclement weather might have stricter guidelines on branches and power lines.
Also, those laws might change throughout the year. For example, hot and dry summers can increase the risk of wildfires in some areas. Laws might dictate that tree branches stay a longer distance away from power lines during those seasons. This reduces the risk of a tree fire spreading to those cables and lines.
For all these reasons and more, as a property owner, it's a good idea stay current about laws in their area. Your local utility company, county clerk, or local tree contractor can typically answer questions about those laws.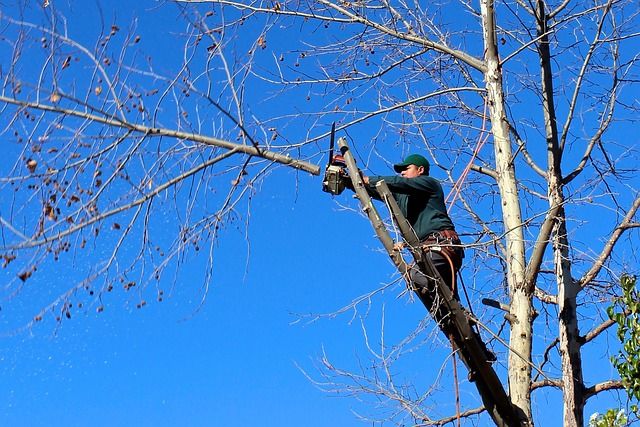 Why Do You Need to Keep Trees Trimmed Around Power Lines?
There are many reasons to keep trees trimmed around power lines, as said. Note these reasons in more detail, so you know why trimming and pruning are so vital!
Tree limbs snapping power lines are the cause of power outages.
Losing power can mean ruined food items in a refrigerator or freezer. This is true for both homeowners and business owners! Supermarkets are typically required to toss out refrigerated and frozen items when equipment temperatures dip to a certain level.
Power outages also mean no heating or air conditioning for area residents. This can be very dangerous, especially in extreme weather conditions and for elderly and infirm persons.
Remember that traffic lights, streetlights, home alarm systems, and other such fixtures need power to operate! Downed lines can then increase the risk of traffic accidents while compromising the safety for area residents.
Medical equipment often needs outside power to operate. Outages can then risk serious health concerns for those using oxygen tanks, nebulizers, and the like.
The danger of downed power lines
Live power lines can give off sparks, risking fires and damage to nearby properties. This risk increases around dry brush or other high-risk items. Those sparks can also mean injury to anyone in the vicinity.
Touching live power lines or standing in water near those lines risks electrocution and even death! In turn, those lines are unsafe for anyone and especially children and animals.
Downed branches get in the way
If tree branches snap and fall near power lines, they might block transformer boxes and other materials. Consequently, workers might need to clear them before they can restore power. This means even more time without power and more risk of damage and injury.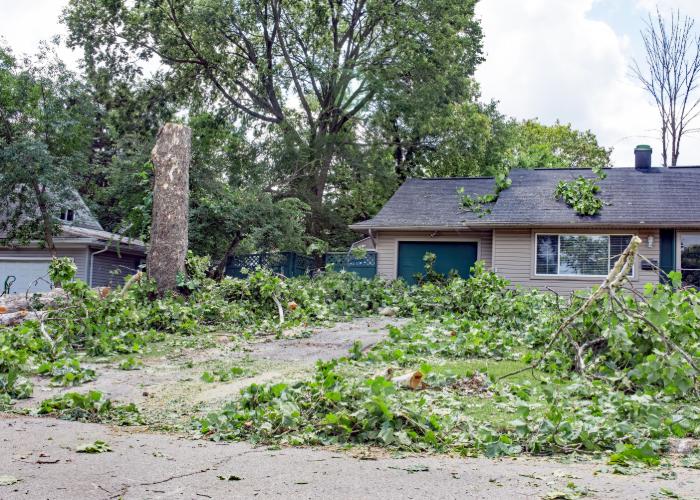 How Are Trees Trimmed Around Power Lines
Property owners should never attempt DIY tree trimming, especially around power lines! One reason is that being on ladders is difficult and dangerous. Two, using heavy-duty cutting equipment also increases the risk of injury.
Also, note that tree branches can snap and fall or swing in any direction when cut. This risks injury to you and damage to any property in the vicinity. Additionally, improper cutting methods can wound trees and cause premature death.
Rather than take all these risks, leave trimming trees and branch removal to professionals. A trained technician ensures safe cutting without property damage. Professional companies also have insurance, in the rare case that they do damage your property! They also have the equipment needed for removing debris, including branches and brush.
How Do You Choose a Tree Trimming Company?
If you need a tree trimmed around a power line, you don't want to rely on an untrained amateur! Safety is especially vital when cutting branches near overhead cables. Consequently, only use companies with years of experience. Also, they should be licensed and insured, in the rare case of damage.
Above all, never work with a contractor who offers a ballpark estimate rather than a final quote before working. You want to avoid hidden charges and fees! A reputable contractor always puts their price in writing so you know what to expect before work begins.
Kansas City Tree Trimming & Removal Service is happy to help explain who is responsible for tree branch trimming near power lines. If so, feel free to browse our blog for even more practical tips. Also, call our tree services contractor for expert care on your property. We offer FREE estimates and a range of services, including pruning, trimming, and removal. For more information, give us a call today.