Why are you calculating the tree removal cost in Kansas City? Trees are essential to the environment. However, when they become a threat to your property or life, they need removal. It's not a good idea to attempt to remove trees on your own or pay weekend warriors to remove a tree. Tree removal requires a lot of skill to prevent injury and damage to surrounding property. A certified arborist will remove a tree properly. So, how much does it cost to remove a tree in Kansas City? On average, it may cost nearly $750 to remove a tree. However, many factors may influence tree removal costs in Kansas City, which could make this price higher or lower. Here are some things to consider when getting tree removal.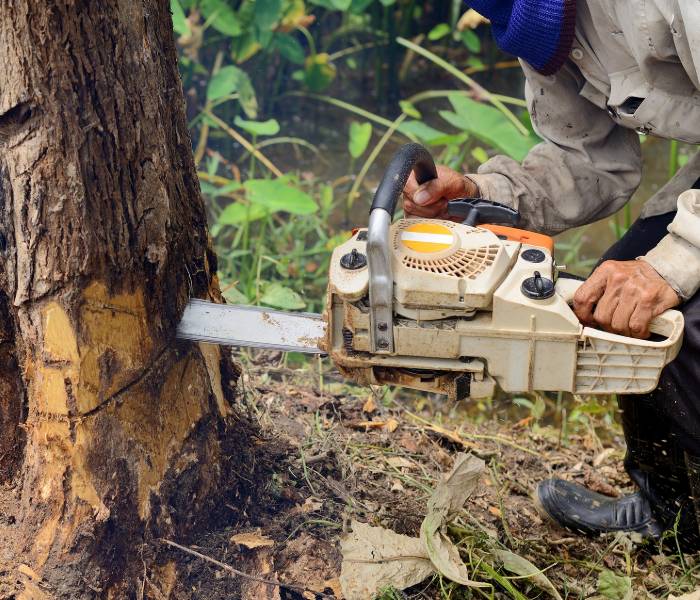 A Tree In Bad Condition Can Drive Up The Costs
An arborist must remove cracked or decaying trees very carefully. For instance, if pests have severely damaged a tree, merely touching it can cause the tree to crumble. So, it won't be as easy to remove this tree as other trees in reasonably good condition. Not only will an arborist have to remove the tree in small sections starting with the canopy of the tree but the arborist will also have to lower the rope to the ground using a rope. In addition, an arborist may have to use other equipment to ensure that the branches and limbs land on the ground without causing damage or injury. This process is slow and labor-intensive, and this can raise the costs of tree removal substantially. For example, a tree that would typically cost $750 on average may end up costing up to $1,500 or more. 
The Height of a Tree May Drive Up The Costs Exponentially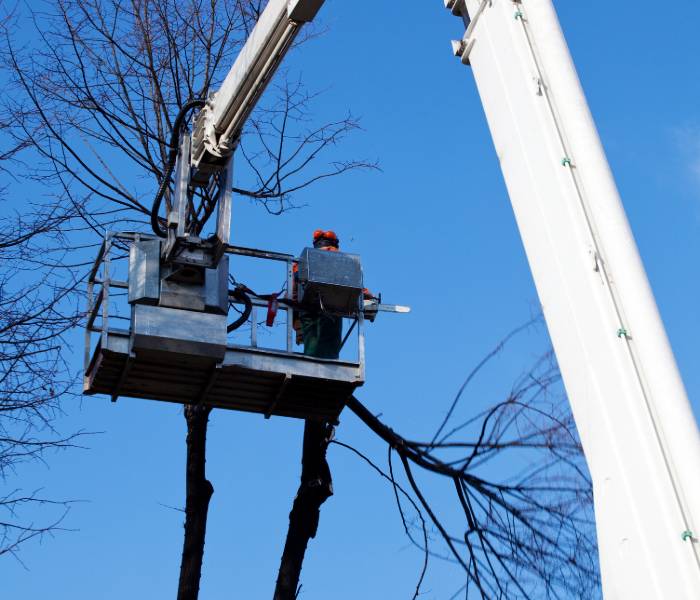 A tree in bad condition isn't the only tree that could end up driving up costs. Tall trees can also drive up prices. Trees typically grow to about 30 to 50 feet on average. The cost to remove trees that are this height ranges from about $400 to $1,000. However, if your tree is taller than this, the price could go up an additional $500. In addition, tall trees are hazardous to remove. For one reason, it is dangerous for the arborist because it will require much precision, skill, and proper equipment. As a result, the risk of injury is higher for them. Therefore the costs may increase. Besides the dangers that the arborist is taking removing tall trees, the risk of damage that falling limbs and branches can cause is just as risky. Just like with trees in bad condition, arborists will have to carefully remove trees in the canopy using rope to prevent the tree from falling onto your home or other property. 
Accessibility May Play a Role in Costs
As if high trees and trees in bad condition weren't expensive enough, tree companies may add another layer of costs if the tree is hard to access. Trees that are hard to access will also require careful removal, which may be slow and steady to prevent damage or injury. For instance, trees that have a canopy that is primarily hanging over the roof of your home will require much precision to prevent the limb from crashing into your roof and causing roof damage. An arborist will have to use special equipment to access the limbs and then use a rope to lower the pieces to the ground carefully. Another accessibility issue may be that the trees may interfere with electrical wires. Not only is this inconvenient, but it is also dangerous. To minimize the dangers associated with this hazard and restore power if necessary, an arborist will have to remove the tree branches or the entire tree itself. In addition, they must work with the utility company to prevent injury to themselves from electrocution. Again, this could drive up costs.
If Your Tree Has Fallen Already, This May Be Good News In Terms of Costs
This may seem counterintuitive, but a tree that is already down is good news unless it has fallen on your house or car. If it has fallen in the yard and hasn't caused any damages, the good thing about this is that you won't have to pay as much. Since it's already down on the ground, the hard work of laboriously felling it is not necessary. An arborist will only have to cut the tree into parts and remove it. The cost of a tree that's already down will range from $85 to $300 on average. If you have to have the stump removed, this will add on an additional $60 to $350. Also, if you prefer to use some of the trees for firewood, this may add on another $75. 
Keep in mind cutting the tree down may not include removing it from the property. You will have to check with the tree company to see if tree removal cost in Kansas City includes haul away. If not, then expect to pay an additional fee for haul away. You can reduce the costs of hauling away large chunks of tree parts by having the arborist chip the tree. 
Tree removal can be pretty costly. Luckily, there are ways for arborists to preserve a tree that may be less costly. For example, if you suspect that you have a damaged or diseased tree, an arborist may be able to revive it. However, if you need tree removal in Kansas City, it's good to know that a top-rated tree company like Kansas City Tree Trimming & Removal Service can help! To learn more about tree removal cost in Kansas City or their other fantastic tree services, call (816) 977-2100 today to schedule an inspection and a free quote.