Of all the home improvement and repair services that a homeowner has to contend with, tree care services are probably most overlooked. But, tree care should be on the top of the list of essential services. This is because the devastation they can cause if they are not cared for can be detrimental to your property and even your life. One good thing about trees is that they don't require a lot of upkeep. Most tree inspections only need to be done every two to three years. And maintenance may cost a few hundred dollars, depending on the services that an arborist recommends. But this is a small investment to prevent enormous costs from tree damages. So, what exactly is the cost of tree care services? Read on to learn more about the standard tree services and the costs associated with them. 
Typical Tree Services 
Some homeowners may not get tree care services because they may not be aware of them or may not know how they can benefit from tree care services. Tree removal is a massive part of most tree companies' services. So, many homeowners may conclude that if they don't need tree removal services, they don't need tree services. But tree companies do more than remove trees. Tree care companies provide two primary services that may benefit homeowners: tree trimming and tree pruning. Both help make trees look aesthetically beautiful and allow them to grow successfully. Trimming a tree helps rid it of excessive growth and keeps it looking tidy. Pruning a tree helps remove dead and unnecessary branches and limbs to protect the tree's structure. Getting tree trimming and pruning for your trees can keep branches from falling onto your property and causing damages or injury.
Tree removal is another essential tree service that a tree company performs for home and business owners. Although it is typically a last resort, it is a necessary service. If a tree is structurally not sound, an arborist will recommend that you remove a tree to prevent it from collapsing on your property. Also, if a tree has already fallen, an arborist will have to employ tree removal services to get the tree off your property. Another form of tree removal customers may get is land clearing services. With land clearing, residential or commercial customers may get these services to develop on the cleared land. For example, residential customers may get land clearing to install a swimming pool or other recreational structures such as tennis courts. Commercial customers may get land clearing to build homes, businesses, factories, or golf courses.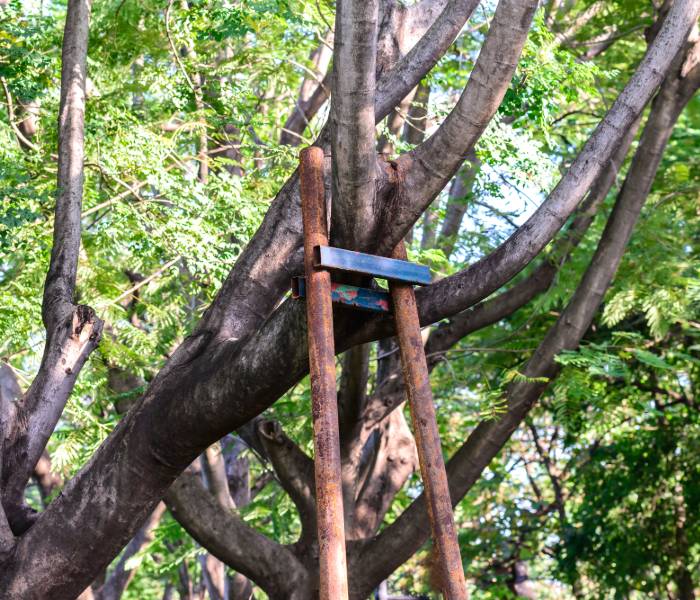 A few other tree services are stump removal and cabling and bracing. When arborists remove trees, they don't typically include stump removal. This is a separate service, but it is critical because it prevents fungus growth and keeps pests away. Cabling and bracing services allow an arborist to try to save a tree on your property that may be structurally damaged but still in good condition.
How Much Does Tree Trimming and Other Tree Services Cost?
So now that you know some of the common types of tree services provided by a tree care company, you're probably wondering how much these services cost. Tree services vary from state to state and could even differ from company to company within the state. The best way to get a reasonable rate on tree services is to research. It is a good idea to narrow down your results to three tree care services and make your final decision from these. Your decision shouldn't be based on price alone, however. Here are some of the typical costs of tree services mentioned above. The costs are based on cost guides provided by Home Advisor. However, there are many other sites where you can get average tree costs, such as Lawnstarter, Angi, Homeguide, Homeserve, Thumbtack, Homewyse, and more. 
Cost Range: $200 to $760
Cost Range: $400 to $800
Cost Range: $200 to $2,000
Cost Range: $250 to $2,000 (per acre)
Cost Range: $160 to $505
Cost Range: $200 to $400
In addition to gathering this general information from cost guides, it would be a good idea to narrow your searches to your particular area to get general costs. For instance, tree removal services in New York may differ drastically from those in Arkansas. So, it may be a good idea to include your zip code on these sites to get more accurate rates. These are just a few of the standard services that tree companies provide. For more specialized tree care, you should consider having an inspection. 
Other Factors That May Drive Up Cost of Tree Care
The ranges mentioned above are typical costs. However, there could be a lot of factors that increase the costs. Below are some factors that may drive up the usual range of tree service costs. 
Size of Trees
Caring for or removing trees can be an arduous and dangerous job. Arborists will have to rely on different types of equipment to trim, prune, or even remove the tree safely.
Type of Trees
The type of tree may also factor into higher costs. Keep in mind that certain trees may be denser than others. Therefore, this may make tree removal more strenuous and challenging to maintain or remove, thus, driving up labor costs.
Shrub care
Sometimes trees aren't the only vegetation that arborists care for on your property. You may also need shrub trimming, pruning, or removal. In such instances, tree companies may charge an additional fee for this service along with tree care services. 
Emergency
Regular tree removal costs are not the same as emergency tree removal. A tree emergency includes fallen trees on your property or power lines. These incidents may put human life in danger. Therefore, an arborist must work quickly to remove these trees, and they may charge extra because they do it 24 hours a day, seven days a week. 
Haul Away
Another fee that may be included in the costs of tree services, especially if you get tree removal, is haul away. For example, an arborist may charge for removing debris associated with trimming and pruning or removing your tree from your property.
Firewood
Another service that a tree company may offer is to take the trees they have removed and turn them into firewood. As a result, they may charge an additional fee for this service. 
Tree services can be costly. However, a tree emergency can be far more expensive and detrimental. Not only is the cost of tree removal in an emergency costly, but also the cost of repairs to your home or car can be high, especially if they aren't covered by insurance. A tree emergency can also be costly because it could cause injury or even death. Therefore, to minimize the risks associated with fallen trees, especially if you live in an area known for tree emergencies from high winds or storms, it is a good idea to establish routine inspections with a local tree company.
If you are looking for a high-quality tree care and removal company in Kansas City or the surrounding areas, look no further than the experts at Kansas City Tree Trimming and Removal Service. Call us today for a free estimate on our many tree services.